Dear Virat! Kohli cried after meeting not one, but 52 grandparents in an old age home; You will also be emotional after reading
We have heard from many people that 'man is not what he seems'. However, the same is true of some Indian cricketers. Some Indian players are very aggressive on the field, but off the field they are different. As aggressive as they are, they are also loving and kind. Same is the case with Virat Kohli. This is confirmed by one thing that Virat did during the IPL.
Famous sports journalist Sunandan Lele recently gave an interview to a YouTube channel. In this interview, Lele commented on Virat Kohli's kindness. Every fan's love for Virat has increased after hearing these things about him.
What did Sunandan Lele say?
Talking about a question asked about Virat during the interview, Lele said, "The Virat you are talking about who doesn't meet anyone immediately, Virat has personally met 52 elderly grandparents. 'Are you okay? What happened to you?' He also asked this question. Not one, but he went into each of the 52 grandparents' rooms, sat next to them and talked to them for an hour and a half."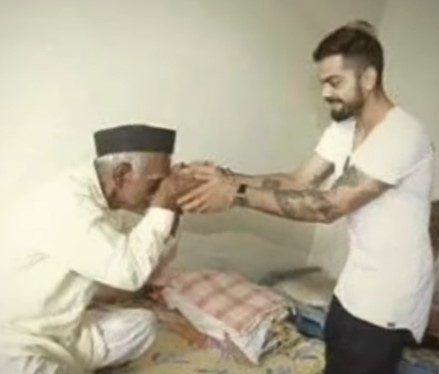 Speaking further, he said, "At that time, I was crying with joy, what a person this is. He met everyone with such love. I had tears of joy in my eyes and tears of sadness in Virat's eyes."
A Twitter user named Johns also tweeted on this basis. He wrote, "During an IPL season, Virat Kohli met 52 elderly grandparents in Pune. He and his foundation had decided to provide financial assistance to the old age home for two years."
During an IPL season, Virat Kohli met 52 senior citizens in an old age home in Pune, Virat & his foundation decided to give all the money for 2 years to the old age home. (Source – Vibhu Bhola https://t.co/UHweebnV4m) pic.twitter.com/MU6AcYF1FT

— Johns. (@CricCrazyJohns) February 21, 2023
Virat Kohli completed 25 thousand runs in international cricket
Virat Kohli is currently part of the Indian squad for the Test series against Australia in the Border-Gavaskar Trophy. Currently, 2 matches of the 4-match series have been played. Meanwhile, Virat has set a record of crossing 25 thousand runs in international cricket. He is the second Indian after Sachin Tendulkar to achieve such a feat.
Additionally, the third match of the Test series will be played from March 1 to 5, while the fourth match will be played from March 9 to 13. After this, a 3-match ODI series will also be played between India and Australia. Virat is part of the Indian team in this series. (Virat Kohli met 52 senior citizens in an old age home in Pune During An IPL Season- Sunandan Lele)


Important news-
Bombla! The post of vice-captain has gone, now will the post of captain also go? 'These' 2 players can replace Rahul in IPL
Dhoni's historic IPL career will take a break on 'this' day? A 'Thala' lover must read the news
🏏 क्रिकेट विषयी माहिती साठी व मदती साठी जॉईन करा आमचे सोशल मीडिया व्हॉट्सॲप ग्रुप, टेलिग्राम ग्रुप, फेसबुक पेज ईथे क्लीक करा 💬